Robin Bogaert


is a long arm quilter, owner and creator of quiltingintheloft.com and has many years of quilting experience.
​Robin was the past owner of a quilt shop in Windsor, Ontario and has recently located to Waterloo. Robin's roots in quilting are traditional, however she appreciates modern quilt design as well and considers the focus of work to be designing, teaching, free motion quilting and thread painting. Robin is a past member of Windsor Quilters Guild, Erie Shores Guild and Waterside Quilters and keeps up to date with current quilting and sewing by being involved with the Elmira Needle Sisters and Waterloo County Quilter's Guild.
The tri city areas included in Waterloo Region sponsor an abundance of quilt related activities and resources along with lovely farms, local grown produce and a thriving arts community and therefore Robin is excited about her contribution to the quilting community.
In addition to blogging for quiltingintheloft.com, Robin custom quilts for others with her Long Arm Machine, teaches classes, shows her quilts (in Ontario and other provinces in Canada), designs patterns and sells some of her patterns on
Craftsy.com
&
PatternSpot
---
Check out our shop page for items for sale and free downloads!

Quiltingintheloft.com is a company focused on inspiring others by sharing sewing, quilting and DIY ideas for you home. Check out our blog page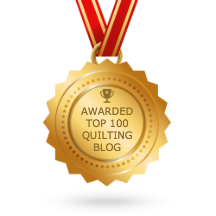 Recently Featured: Summer 2016 & 2017 issue of Quilter's Connection Magazine!
A sample of my recent work is shown below "Northern Cardinal"
"Sew"......... Congratulations !
For having an interest in DIY, sewing, quilting, being creative and making original hand made items for your home and family.